Events Calendar
Calendar is updated weekly.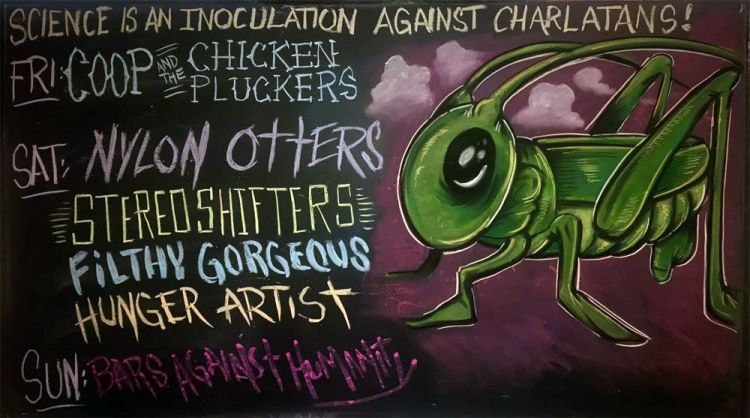 Friday, July 20, 2018, 9:00 PM
Coop & the Chicken Pluckers
Rockabilly / Hillbilly / Honky Tonk
www.reverbnation.com/coopandthechickenpluckers1
Sunday, July 22, 2018, 5:00 PM
Bars Against Humanity
Game

Dangerhome Entertainment has just made Sundays a little more offensive! Come play the most hilarious game. Fabulous prizes, MC and Happy Hour!
Friday, July 27, 2018, 6:00 PM
Underground Music Showcase
Various
www.theums.com
Tkettle
6:00 - 7:00
Funk Hunk
7:00 - 8:00
Sam Nitsch & The Feedback
8:00 - 9:00
Ramakhandra
9:00 - 10:00
Twin Flame Medicine
10:00 - 11:00
Dead Latin
11:00 - 11:59
Yasi
12:00 - 1:00
Saturday, July 28, 2018, 12:00 PM
Underground Music Showcase
Various
www.theums.com
in/PLANES
12:00 - 1:00
Down Time
1:00 - 2:00
Briffaut
2:00 - 3:00
Panther Martin
3:00 - 4:00
Super Bummer
4:00 - 5:00
DJ Polyphoni
6:00 - 7:00
Play Pretend
7:00 - 8:00
McKnight
8:00 - 9:00
Gracie Bassie
9:00 - 10:00
Mawule
10:00 - 11:00
Emma Mayes & The Hip
11:00 - 11:59
Florea
12:00 - 1:00
Sunday, July 29, 2018, 6:00 PM
Underground Music Showcase
Various
www.theums.com
J. Rene
6:00 - 7:00
Easy Lovin'
7:00 - 8:00
Professor Plumb
8:00 - 9:00
Automatic Iris
9:00 - 10:00
Spacejail
10:00 - 11:00
Bear Antler
11:00 - 11:59
Super Distant Boyfriend
12:00 - 1:00