Events Calendar
Calendar is updated weekly.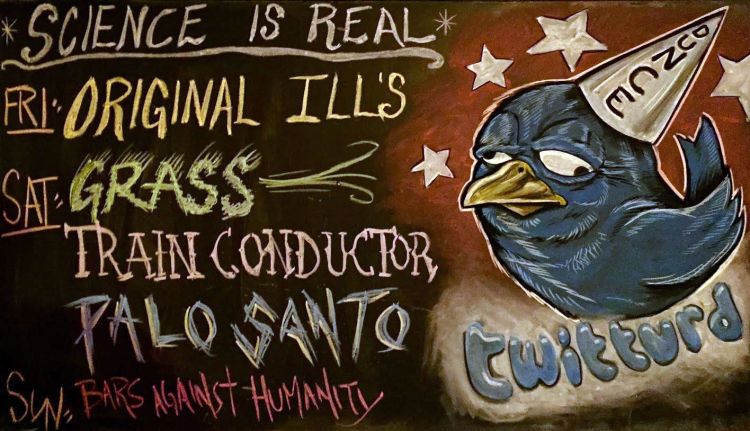 Friday, February 23, 2018, 9:00 PM
The Original Ills
Indie Blues/Rock

Sunday, February 25, 2018, 5:00 PM
Bars Against Humanity
Game

Dangerhome Entertainment has just made Sundays a little more offensive! Come play the most hilarious game. Fabulous prizes, MC and Happy Hour!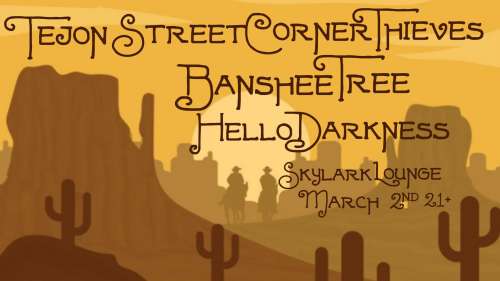 Friday, March 2, 2018, 9:00 PM
Tejon Corner Street Thieves
Banshee Tree
hello darkness
Saturday, March 3, 2018, 9:00 PM
Atomic Drifters
Rockabilly
www.atomicdrifters.com
The Atomic Drifters are Denver's new hard drivin, traditional rockabilly band. They are a four piece band playing your favorite rockabilly tunes of the 50s! Crankin' out roots-inspired rock & roll since 2010, The Atomic Drifters played their very first show at the legendary Skylark Lounge after only one rehearsal (sssssshh!). A great opening night - filled with whiskey shots, a packed dance floor, and multiple encores - made the guys figure "Hey, we'd better stick around!"
Friday, March 16, 2018, 9:00 PM
Adam Lopez
Honky Tonk
www.adamlopezmusic.com
Adam Lopez & His Rhythm Review are a modern take on classic forms American Roots Music. From Rock & Roll and Rhythm & Blues to Rockabilly and Honky Tonk, A.L.R.R. aim to maintain true to the fundamentals of this music while carving out their own niche in the modern music landscape. Sometimes staying traditional, sometimes pushing boundaries, sometimes experimenting with the merging of these styles, they always play with the urgency that made the originators of these musics exciting to both listen to and watch. From Hank Williams to the Sun sounds of Johnny Cash and Elvis. From Chuck Berry and Little Richard to Ray Charles and Waylon Jennings.
Friday, March 23, 2018, 9:00 PM
Halden Wofford & the Hi*Beams
Honky Tonk
www.hibeams.com
Halden Wofford and the Hi-Beams' classic style of honky tonk has a language and culture all to itself, but only takes one quick lesson to learn how to love for a lifetime. The twang of the steel guitar, snap of the snare drum, thump of the stand-up bass and rippin' electric guitar solos mix with Wofford's distinctive vocals to create a sound that is familiar yet purely original. Ringing out all along the Front Range of Colorado and beyond, Wofford's wavering tenor conjures up images of Hank Williams Sr., Buddy Holly and Bob Wills.
Friday, March 30, 2018, 9:00 PM
Delta Sonics
Blues
www.deltasonics.net
The Delta Sonics (formerly known as The Homewreckers) have been playing in Colorado since 1992, and have established themselves as one of the finest blues acts in the area with their solid musicianship and exciting live performances. Their musical stylings include Chicago Blues, West Coast Swing, New Orleans R&B, and some early Rock n' Roll.